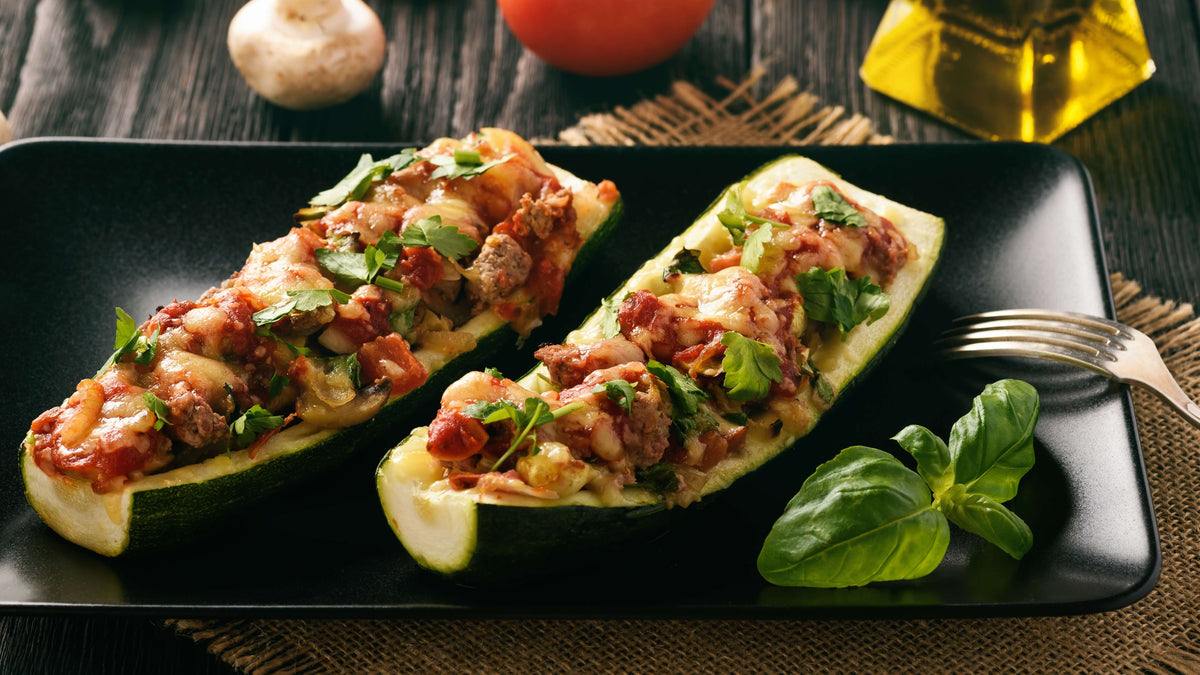 Quick & Easy Zucchini Boats
From start to finish, these zucchini boats only take about 40 minutes to prepare. But the best thing about them is how they deliver bold Italian flavor while helping you meet your menopausal nutritional needs: high protein, high fiber, and low calories. 
The zucchini is a great source of dietary fiber, which is crucial to promoting digestive health and maintaining a balanced gut microbiome. Finally, we suggest using San Marzano tomatoes for their zesty yet slightly sweet flavor but any diced tomato will fit into this recipe while also being a great source of lycopene.  
We use ground turkey, but you can substitute it with your favorite low-fat protein source.
Ingredients
3 medium zucchini
1 pound ground turkey
1/2 cup diced San Marzano tomatoes
1 1/2 cup pasta sauce, divided
1 tbsp. Italian seasoning
Salt and pepper to taste
Instructions
Preheat oven to 350 degrees Fahrenheit. Pour the 1/2 cup of pasta sauce in a large glass baking dish and set aside.


To make the zucchini boats, cut the bottom and the top off the zucchini and then cut them in half lengthwise. Using a spoon, hollow out the center of the zucchini halves, leaving about a 1/4-1/2 inch shell. Place them flesh side up in a glass baking dish and sprinkle with salt and pepper.


Warm a large sauté pan over medium heat. Add ground turkey, breaking it up with a spoon. Sauté the meat for about 4-5 minutes until browned. Add in the diced San Marzano tomatoes, Italian seasoning, salt, pepper, and the remaining cup of pasta sauce. Stir to combine and remove from heat once incorporated.


Stuff the zucchini boats with the turkey mixture, dividing it up equally, about 1/2 cup per boat. Cover the pan with foil and bake for 30 minutes until the zucchini is cooked through, but still has some firmness. Top with a sprinkle of parmesan or more Italian seasoning, if you like, and enjoy!
(Recipe adapted from Eat the Gains)