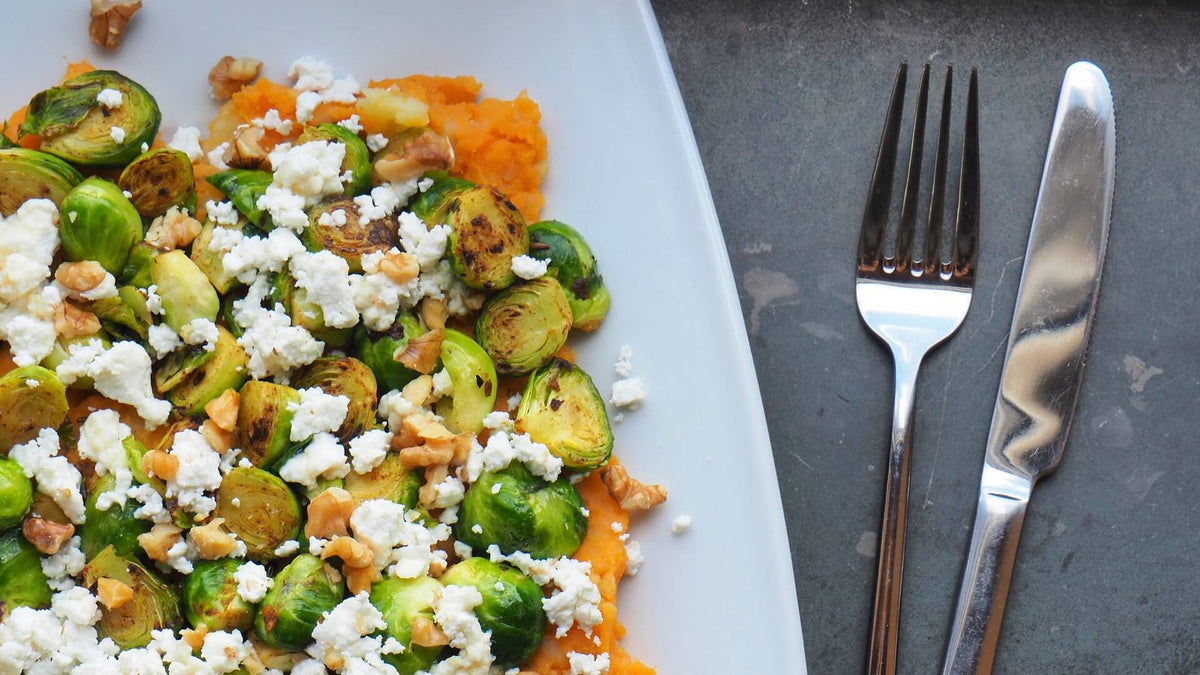 Lemon Brussels Sprouts & Spaghetti Squash
This lemon-flavored Brussels sprouts with spaghetti squash recipe is so delicious you won't even notice that it's healthy. We substituted spaghetti squash instead of ordinary noodles to reduce calories and increase nutrition. While spaghetti squash isn't a particularly high-fiber vegetable, it is low calorie, low carb, and packed with nutrients including vitamin C, vitamin B6, and potassium. 
Brussels sprouts, on the other hand, are a great source of dietary fiber, which can improve digestive health and stabilize your gut microbiome. On average, one cup of Brussels sprouts provides 3.5 grams of dietary fiber.

This recipe contains three cups, so you're well on your way to filling your daily recommended fiber intake. Pair this vegetable dish with your favorite lean protein for a healthy and well-balanced meal. 
Ingredients
1 medium spaghetti squash
4 tbsp. neutral oil, divided (we like avocado)
1 ½  cups coarse breadcrumbs (optional)
1 ¼  tsp kosher salt, divided
Freshly ground pepper
Zest of 2 medium lemons, divided
3 cups cooked or roasted Brussels sprouts, coarsely chopped
1 clove minced garlic
¼  tsp red pepper flakes (optional)
½  cup dry white wine
2 tbsp. freshly squeezed lemon juice
Grated parmesan cheese, for serving
Instructions
To prepare the spaghetti squash: 
Preheat the oven to 400°F.
Slice the spaghetti squash in half lengthwise and remove the seeds and ribbing. Drizzle the inside of the squash with a neutral oil and sprinkle with salt and pepper.
Place the spaghetti squash cut side down on a lined baking sheet and use a fork to poke holes into the skin. Roast the squash for 30 to 40 minutes or until lightly browned on the outside. The time may vary depending on the size of your squash, so keep an eye on it.
Remove from the oven and flip the squash so that it's cut side up. When cool to the touch, use a fork to scrape and fluff the "noodles" from the sides of the squash. Set aside.
To prepare the rest of the dish: 
Heat 2 tablespoons of olive oil in a large, nonstick frying pan over medium heat. Add the breadcrumbs and 1/4 teaspoon of salt, and season with pepper. Cook, stirring occasionally, until golden brown and toasted-- about 7 minutes. Remove from heat and stir in half of the lemon zest. Transfer the breadcrumbs to a medium bowl and set aside. 
Heat the remaining 2 tablespoons of neutral oil in the frying pan over medium heat. Add the Brussels sprouts, garlic, and red pepper flakes, and cook until heated through-- roughly 2 to 3 minutes.
Add the wine and remaining 1 teaspoon salt, and season with pepper. Cook until the wine is reduced by half, about 2 minutes. 
Transfer the spaghetti squash to the pan. Add 2 tablespoons of lemon juice and 1 cup of water and cook, tossing often, until the sauce thickens and coats the spaghetti squash. Add more water a tablespoon at a time as needed if the dish seems dry.
Remove the pan from the heat and stir in the remaining lemon zest. Taste and season with more salt, pepper, and lemon juice as needed. Sprinkle with the toasted breadcrumbs and Parmesan cheese. Serve immediately.
 (*Recipe adapted from The Kitchn)