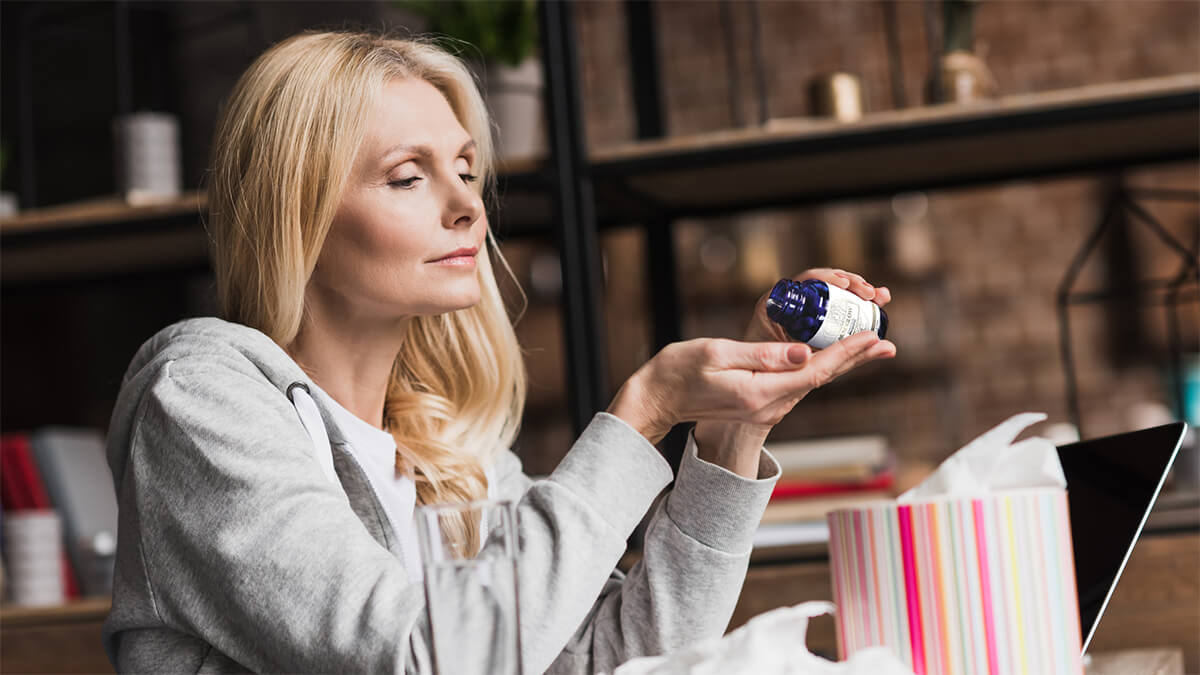 What Probiotics Can Do for Your Immune Health
At MenoLabs, we've been looking into the research behind probiotics impact on relieving menopausal symptoms like hot flashes, postmenopausal osteoporisis, mood swings, and so on. But what other health issues can probiotics tackle? How can they affect the health of our immune system? How can they help fight back against viruses and bacteria like the common cold, the flu, or even pneumonia? 
The three primary bacteria strains in products like our MenoFit and MenoGuard probiotic blends that have the greatest impact on the immune system are Lactobacillus plantarum, Lactobacillus rhamnosus, and Lactobacillus reuteri. All of these bacteria strains possess properties that have a number of benefits to the immune system. Although they may be strains that are primarily associated with the health of the gut microbiome, they can help improve the immune system's response to viral infections. 
How can bacteria strains help improve your immune system?
It may seem counterintuitive to put bacteria in the body to stop your chances of getting sick, but there are actually a number of benefits to taking a probiotic for immune health. Take lactobacillus reuteri as an example. Lactobacillus reuteri is a strain of bacteria that is part of the major lactic-acid producing probiotic bacteria. It's meant to act as a method to treat gastrointestinal issues but its secondary effects have some interesting benefits. 
Lactobacillus reuteri stimulates the production of white blood cells called T cells. T cells are white blood cells that help fight off viruses, bacteria, and other infections that can negatively affect the immune system. They prevent viruses from spreading through the body and can help fight off infections in the respiratory system, reducing the ability for bacteria and viruses to reproduce. This can be especially helpful when preparing for flu season. Having more T cells in the body can help eliminate flu viruses and stop them from spreading through the body before they have the chance to. 
What about lactobacillus plantarum? What immune system benefits can this strain of bacteria provide?
This bacteria strain derived from plants has the ability to protect the immune system from pneumonia. Streptococcus pneumoniae, the bacteria responsible for causing pneumonia, attacks the respiratory system and causes a buildup of pus, mucus, and other fluids to build up in the lungs as streptococcus multiplies in the body and is carried through the bloodstream. Lactobacillus plantarum helps white blood cells fight off this infection and prevent it from spreading to the respiratory system. 
Similarly, lactobacillus rhamnosus has immune health properties that can help prevent the spread of viruses. Like lactobacillus reuteri, lactobacillus rhamnosus helps with the production of T cells that can help fight off infections. Lactobacillus rhamnosus is particularly helpful in fighting off viral infections, like the flu. By helping trigger the production of T cells, lactobacillus rhamnosus can help strengthen the immune systems should a virus find its way into the bloodstream.
All three of these probiotic bacteria can help strengthen the immune system on top of helping relieve menopausal symptoms. By taking probiotic supplements, you can help protect your immune system. So get ready for flu season and keep your body healthy with the help of probiotic supplements.  
Reuteri Research Link: https://www.ncbi.nlm.nih.gov/pmc/articles/PMC5917019/
Plantarum Research Link: https://www.ncbi.nlm.nih.gov/pmc/articles/PMC4006993/
Rhamnosus Research Links: https://www.ncbi.nlm.nih.gov/pubmed/24559976, https://www.ncbi.nlm.nih.gov/pubmed/31546582