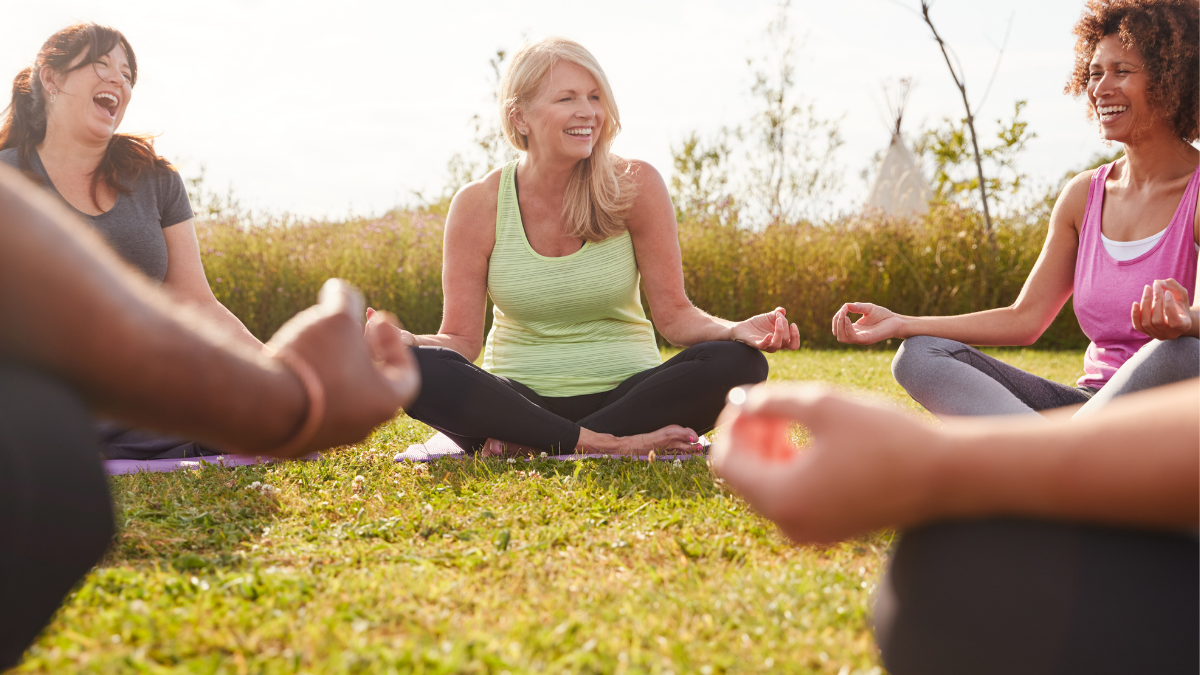 How To Plan a Peri/menopause Retreat
So what exactly is a perimenopause/menopause retreat?  
We're not surprised you ask. After all, for years the very topic of menopause was kept hush-hush. But as the population of menopausal women grows, the more we're opening up with each other about our experiences. And that is what a menopause retreat is really all about: an opportunity to unplug, address the body's needs, and connect with other women in a supportive community.   
But as different as each of us are, so are our individual ideas for what a perfect retreat would be like. Maybe you have a few ladies in your tribe you'd love to do a small, private retreat with. Or maybe you love the idea of meeting new friends at a planned retreat where women from all walks of life come together to share their stories. These are the kinds of questions that you should ask yourself when planning your menopause retreat. 

All-Inclusive vs. DIY Menopause Retreats 
Google "menopause retreat" and you'll find a rabbit hole of options that span the globe. There are benefits to going the all-inclusive route:  
Less stress. You're leaving the planning to the professionals. 

 

New connections. You'll meet different people also dealing with menopause.

 
More structure. Retreats often provide an agenda so you get the most out of what they have to offer. 

 
However, if you're looking for a more private experience that allows you to have more autonomy and flexibility, it may behoove you to choose the DIY experience. Grab your closest girlfriends and choose your destination, lodging, and activities based on your shared budget.   
Fun & Restorative Menopause Retreat Activities 

Pre-planned menopause retreats often have activities that harken back to the sunny days of summer camp. You'll get to know your new friends at meet-and-greets, participate in movement classes like yoga, pilates, or tai chi, and enjoy healthy, well-balanced meals.  
 
If you are creating your own retreat experience, you may want to incorporate those activities into your itinerary. But we have some other ideas you may enjoy:   
Acupuncture or acupressure massage

 

Professional spa treatments 

 

Women's self-defense class

 

Group painting class

 

Historic walking or biking tour

 
Camping or glamping

 

Personal stylist consultations 

 

Sweat lodge

 

Rock climbing or bouldering

 

Amusement parks

 

 
The important thing is to make your retreat about you. This is a time in your life to try new things and fulfill your lifelong dreams. Create an experience that resonates with those goals.   
Menopause Retreat Packing List  
Obviously, your packing list is going to vary based on your destination and planned activities. But no matter the menopause retreat, you should never forget:   
Comfortable clothes suitable for movement

 

Supportive athletic shoes 

 

Happy Fiber

to help with travel-related irregularity

 
A reusable water bottle

 

Water-safe sandals

 

Your favorite

SPF

 

Sleep aids (earplugs, eye mask,

Well Rested

, etc…)

 

Outlet converters (if traveling internationally)

 
Journal and pen for self-reflection

 

Satin pillowcase for smoother hair and skin

 

Camera to capture memories 

 

MenoFit

to help reduce symptoms so you can focus on enjoying yourself