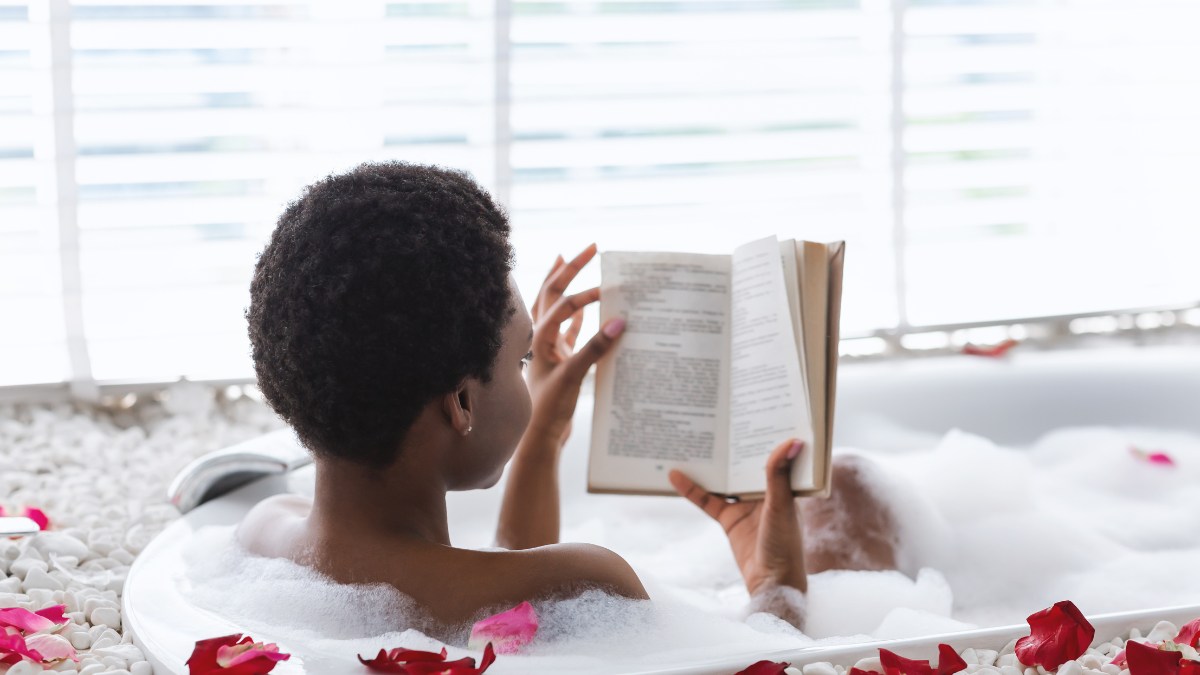 Our Summer Self-Care Guide: What to Try, Watch and Read
We watched And Just Like That
Did you watch the premiere episode of And Just Like That with us? It was fun to watch it live with everyone! If you're interested in watching more shows in the future, let us know which shows catch your fancy so we can set it up—tell us in the Facebook group! 
Here's what one member had to share: 
I'm Denise and I joined this group because I love Sex and the City. My best friend and I used to watch every single episode together and now we live 3,000 miles apart so this group is perfect. Now I don't have to feel like I'm watching it alone. 
Speaking of And Just Like That, legendary Sex and the City costume designer Patricia Field has an upcoming documentary aptly called, Happy Clothes that chronicles her career in the film industry. In our app, MenoLife we talked about the joy of dressing up, especially during times when we're experiencing hot flashes and weight changes. It's all about reflecting the mood you want to experience. I LOVE the brand Farm Rio to do just that! The colors are vibrant, and the prints are fun! Anytime I wear them, people smile and tell me I've made their day because of what I was wearing:) Share how you're #dressinginhappiness in our Facebook group. 
We've all heard that Kim Cattrall will make a cameo on And Just Like That this season. But she also has a series on Netflix called Glamorous where she plays a makeup mogul. Check out all of our beauty tips on our app, MenoLife!  
📚Summer reads
We're all about being inspired to add new techniques to our wellness routines. Watch our last MenoLabs LIVE! for some ideas from our brand expert, Dr. Maggie Ney, ND. Or, take some notes from one of our fave print magazines, MANTRA WELLNESS. Have you read it yet? We met the editor-in-chief at Expo West and she was just as uplifting as the publication! It's like a magazine for self-care. I literally want to try everything in it! BONUS: It's beautiful. You'll want to keep it out on your coffee table!  
Looking for a summer read while lounging by the pool? We found a few fiction books that focus on the peri/menopause experience. Let us know what you think!: 
🛁Create a spa retreat at home!
Need a few ideas to stack next to your tub? Here are a few are loving right now.  
Costa Brazil: If you're like us, the best part of staying in a fancy hotel or  flying business class is the swag bag full of high-end goodies! Costa Brazil is now selling the Spa To-Go kit that used to only be available at exclusive hotelss. Now, you can get the same experience no matter where you are. 
Shop the Spa-To-Go Kit. 
Onda Beauty: Onda Beauty is our go-to for the latest in clean, luxurious brands that are designed for women at our age and stage. Get a taste of a few brands sold at Onda Beauty in their-spa-at-home box. Get your head-to-toe experience for your weekend of wellness.  
Shop the Spa-At-Home Box. 
Stripes: Take an extra 5 minutes tonight for your skin. Combine The Power Move plumping and hydrating face serum and The Cool Factor calming face mist to get your skin feeling refreshed and glowing. An added bonus: Mix, apply, and massage these two products for a DIY hydrating face mask. Watch Naomi Watts share a tutorial. 
Do you want up-to-date information on peri/menopause from our brand expert, Dr. Maggie Ney, as well as insight into what our community members are experiencing in peri/meno? Then sign up for the monthly Dr. Maggie and MenoConnect community newsletter — sign up box can be found at the bottom of this page!