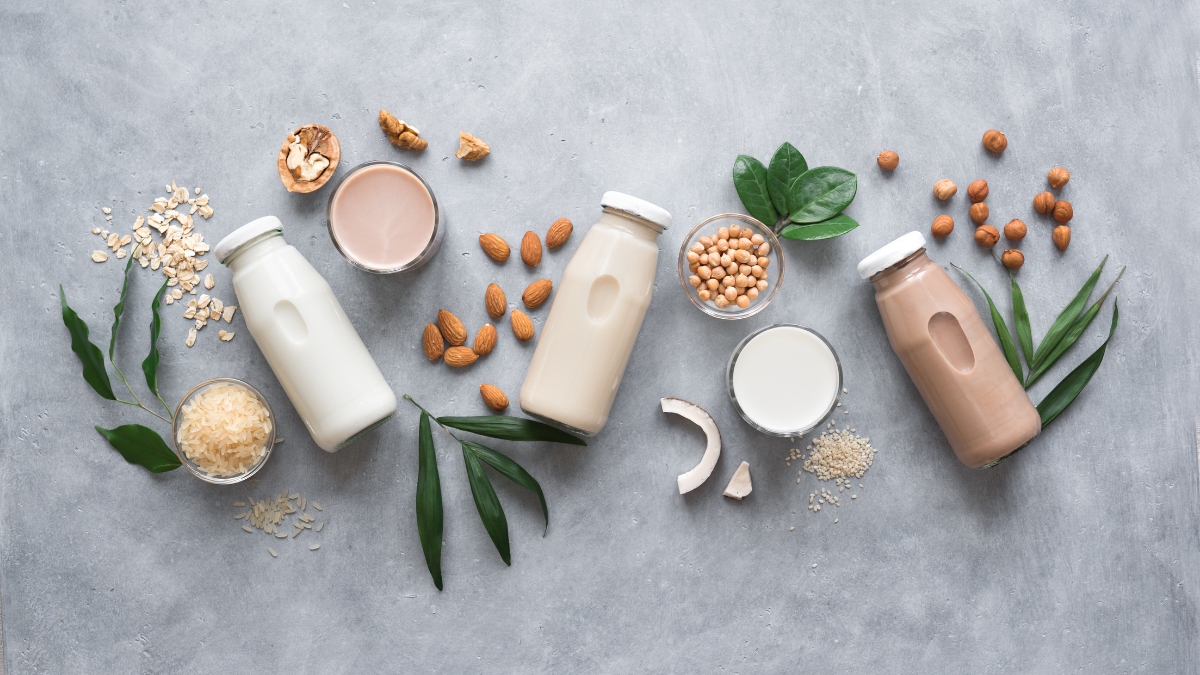 We are still Celebrating World Plant Milk Day!
Have you made the change from dairy products to plant-based milk products yet?  There are so many reasons to make the change these days: the variety in options, the health benefits, being lactose-intolerant, the environment, and helping out the cows.  At most restaurants and cafes it's easy to find an oat, soy or almond milk option.  But to find other non-dairy products like yogurt or cheese can be a bit more difficult.  
Why you should consider cutting dairy from your diet:
Cow's milk contains estrogen, cortisol and 15 other hormones.

Dairy cheese is the #1 source of saturated fat in most American diets.

Some people experience asthma, IBS, acne, and inflammation from consuming cow's dairy products.  
There are so many options today for plant-based milk products:
Easy to find options:                         Other options to look out for:
Almond                                                Barley
Banana                                                Brazil Nut
Cashew                                               Flax
Coconut                                              Hazelnut
Hemp                                                  Macadamia
Oat                                                      Pea
Rice                                                    Pistachio
Soy                                                     Pumpkin Seed
                                                           Quinoa
                                                           Walnut

Tips for choosing your plant-based milk:
Not all plant-based milk is as good as the next.  Some even taste better than others.  If you are going for the healthiest option, keep these things in mind:
Check the label: opt for the unsweetened version, the option that has the shortest ingredient list, and a short shelf life (which ensures it's more natural).

When choosing soy milk, always opt for organic.

Making plant-based milk at home is amazing, but remember that the store bought option also adds vitamins that aren't already present in the natural product.  
Benefits of plant-based milk:
Wondering what kinds of benefits some of the most popular plant-based milks have? Healthline.com has a great selection of information for pretty much every plant-based milk, but here are some standouts:
Almond milk: Low calories, low sugar (make sure you opt for unsweetened), high in Vitamin E, good source of calcium
Oat milk: Fiber, less protein than soy, usually has more calcium and carbs.  It may even help lower bad cholesterol (LDL) which is a big plus.  
Cashew milk: Healthy fats, protein, magnesium, helps with good eye health and skin.
Hemp milk: Protein, healthy fats, helps with skin health. Hemp is also high in gamma-linolenic acid (GLA) so it can help with menopause symptoms like hormone imbalance and inflammation. 
Flax milk: High in fiber, helps lower cholesterol and lower blood pressure, has as much calcium as regular milk.
Fun activities to celebrate World Plant Milk Day:
-Try something new: a different plant-based milk, cheese, or yogurt you've never had.  How 'bout a big glass of barley milk?
-Make your own plant-based milk!  Hemp milk is among the easiest to make, so try starting there!
Here are a few recipes to get you started with making plant-based milk products:
Tools to help you make plant-based milks:
-Blender/Bullet/Vitamix/Nut Milk Maker 
-Soaking Bowl
-Nut Milk Bag/Cheesecloth
-Glass/Jar
Quick Nut Milk Recipe:
The basics:
1 tbsp of nut butter (any you would like to try)
1 cup water
Options to add:
½ tsp vanilla extract
A pinch of sea salt
1 date
Directions:
Mix all ingredients in a strong blender and voila, you have your first cup of plant-based milk!  Store it in a jar in the refrigerator or drink it right away.
Easy Does it, Cashew and Hemp milk
Cashews and hemp seeds do not need to be soaked overnight to make milk, like other plant-based milks require.  They also don't have to be strained since they have no skin.
Ingredients: 
1 cup raw cashews, soaked for two hours in water
4 cups coconut water
2-3 Madjool dates
¼ -½ tsp cinnamon
1 tsp vanilla extract 
3 tbsp-¼ cup of hemp seeds
Pinch of sea salt
Directions:
Add all the ingredients to a blender and mix.  You can add ice if you prefer cold milk.  It can be stored in the refrigerator for up to four days.  
**Tip for making your own nut milk: Don't waste the pulp!  Use it in a granola!  
How to use plant-based milk:
-With granola
-With coffee/matcha latte/golden latte
-Overnight oats
-Smoothie
Have fun with this and try as many different plant-based milk, cheese and yogurt products as you like to see which is the best fit for you.  Happy World Plant Milk Day!