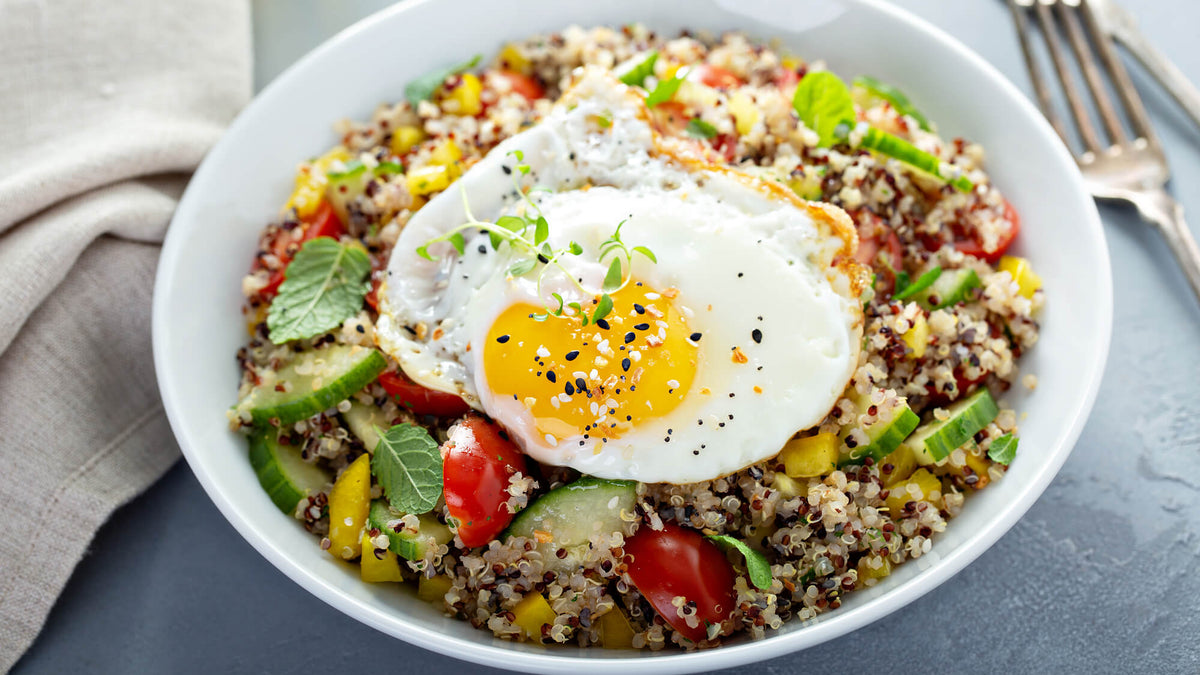 Quinoa Breakfast Bowl
If you prefer a savory breakfast, these yummy quinoa breakfast bowls are a great meal to prep ahead of time or cook up first thing in the morning.
Ingredients
Quinoa Bowl:
1 tbsp. extra virgin olive oil
¾ cup red quinoa
1 small white onion, diced 
2 garlic cloves, minced
1 tsp ground cumin
1 tsp ground coriander
½ tsp paprika
½ tsp salt
¾ cup drained and rinsed canned black beans
¾ cup halved grape or cherry tomatoes
¾ cup frozen corn, thawed
2 tbsp. fresh cilantro leaves, roughly chopped
1 medium ripe avocado, sliced
4 to 6 large eggs (1 egg for each bowl), to top (optional)
Dressing:
¼ cup lemon juice
1 small shallot, minced
¼ cup extra virgin olive oil
1 tsp honey
¼ tsp salt
Instructions
In a small bowl, whisk together the lemon juice and shallots and allow to rest for 5 to 10 minutes. Slowly whisk in the olive oil and honey and a pinch of salt and pepper; adjust the seasoning to your liking. Set aside.
In a large saucepan, heat olive oil over medium heat. Add the quinoa, onion, garlic, cumin, coriander, paprika, and salt. Sauté until fragrant, about 2 minutes. Stir in 1 ½ cups water and bring to a low boil. Cover and reduce heat to low and cook for 18 to 20 minutes, or until most of the liquid has been absorbed. Uncover, remove from heat, then fluff the grains with a fork. Cover and let sit for 10 minutes.
In a large bowl, combine black beans, tomato, corn, and cilantro. Fold in cooled quinoa. Drizzle with dressing and toss. Serve right away or refrigerate until ready to eat.
Portion the quinoa into 4 bowls and top with a few slices of avocado, and a sprinkling of cilantro. If you'd like, top with a soft-boiled egg.
(*

Recipe adapted from The Kitchn)