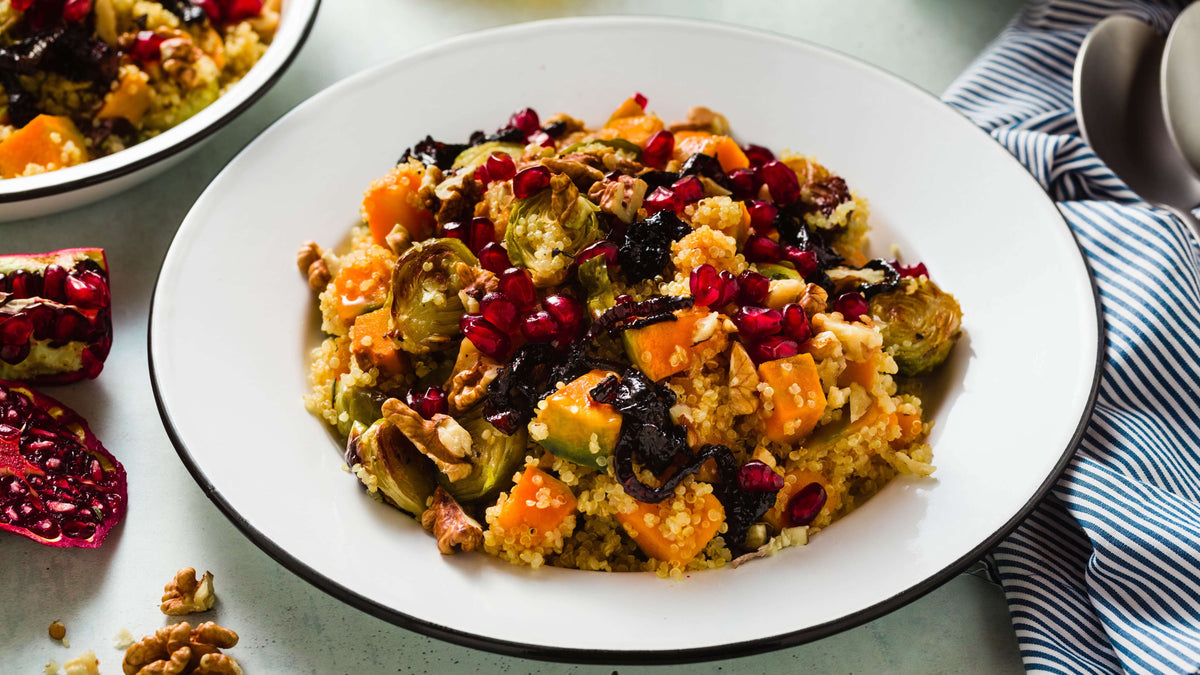 Lemon Quinoa with Butternut Squash
This plant-based dish delivers warm autumn flavors. Quinoa and butternut squash are both great sources of dietary fiber, but the nutty flavor of quinoa plays off the slightly sweet notes of the squash. Bring it all together with a full profile of spices and fruity notes of lemon and pomegranate. Best of all, this recipe is a quick and easy way to get more whole foods into your diet. 
Ingredients
2 cups butternut squash, cubed
1 tsp lemon juice
1 cup uncooked quinoa
¼  cup chopped shallots
4 cloves garlic, minced
1 tsp dried thyme
2 ½  cups vegetable broth
1 tsp grated lemon peel
1-2 tbsp. lemon juice
salt and freshly ground pepper to taste
2 tbsp. lightly toasted pine nuts (optional)
1 tsp chives, minced (optional)
¼ cup pomegranate seeds
Instructions
Preheat the oven to 400F. Cut the squash in half and scrape out the seeds and strings. Peel and cut into 1/2-inch cubes and toss with 1 teaspoon of lemon juice. Place them on a non-stick baking sheet, sprinkle with a little salt and pepper, and bake for 15 minutes, stirring halfway through.
Place the quinoa in a fine-mesh strainer and rinse it well and allow it to drain.
Add the shallots and garlic to a deep, non-stick pot and cook, stirring, until shallots soften slightly. Add the quinoa and toast it until it has dried out and begins to exude a toasty aroma. Add the squash along with the thyme and vegetable broth. Reduce the heat to low and cover. Cook, stirring once or twice, until all broth is absorbed, about 20 minutes.
Stir in the lemon peel and 1 tablespoon of lemon juice. Season to taste with salt and pepper, and add more lemon juice if needed.
Serve with toasted pine nuts, pomegranate, and chives sprinkled on top.
(Recipe adapted from Fat-Free Vegan Kitchen)