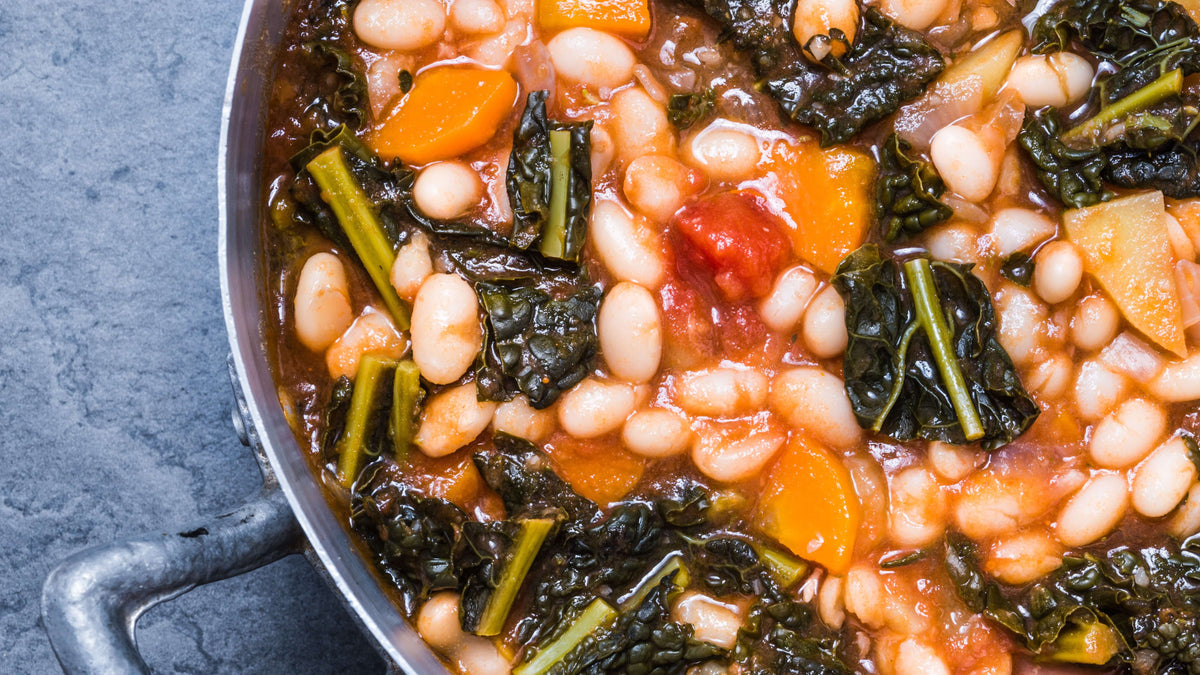 Navy Bean & Kale Soup
This soup is as simple to make as it is delicious.
Navy beans and kale are great sources of dietary fiber, which can improve digestive health. On average, kale provides 2.5 grams of dietary fiber per cup and navy beans contain 19 grams of fiber per cup. 
Ingredients
1 tbsp. heat-tolerant oil, such as avocado or refined coconut oil
1 medium yellow onion, diced
1 medium carrot, diced
1 celery rib, diced
2 cloves garlic, minced
Chili flakes to taste
1 sprig fresh rosemary, minced
4 cups cooked navy beans (about 2 15-ounce cans, drained)
4 cups vegetable stock
2 tbsp. fresh lemon juice
Sea salt & ground black pepper, to taste
3 cups packed chopped  kale (roughly 1 small bunch)
1 large handful finely chopped parsley
Instructions
Heat the oil in a medium-large soup pot over medium heat. Add the onions, carrots, and celery to the pot and stir. Sauté the vegetables until softened and translucent, about 5 minutes.
Add the garlic, chili flakes, and rosemary. Stir and cook until garlic is fragrant, about 30 seconds. Add the navy beans to the pot and stir. Add the vegetable stock to the pot and stir once more. Bring the soup to a boil.
Once boiling, ladle half of the soup into an upright blender. Add the lemon juice to the blender. Gradually bring the speed of the blender up to high and blend until the soup is totally liquified. Pour back into the pot. Season the soup with salt and pepper.
Add the kale to the pot and bring the soup to a boil. Once the kale is slightly wilted and bright green, season the soup once more with salt and pepper. Stir in the chopped parsley. Serve the soup hot.
(Recipe adapted from The First Mess)