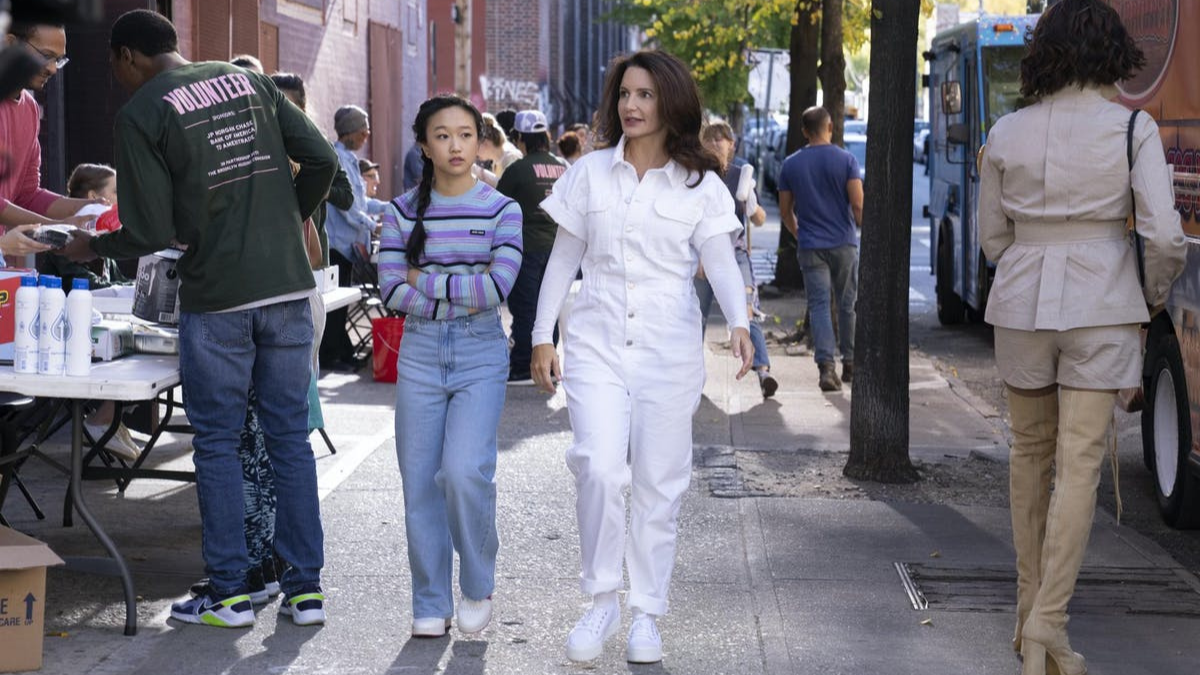 And just like that...we learn what a flash period is
Have you been watching the reboot of Sex and the City (SATC), And Just Like That (AJLT)?  The series is catching up with Carrie, Miranda, and Charlotte to see what has happened since the last film, 11 years ago.  Although it touches on a lot of midlife topics with marriage, children and career, the series has only brought up the topic of menopause twice.  Which is odd, since the characters have been compared to the ladies in Golden Girls, and are definitely at that stage in their lives.  
Peri/menopause Moment:
Last Thursday, on episode 9 (only one episode left), Charlotte shares with Carrie and Miranda that she feels like her experience with peri/menopause is easier than her friends since she is at the 4 month mark with no period and feeling good. But as we know, periods are unpredictable during this stage of life, and anything can happen. Peri/menopause isn't always an easy 12 month and done experience.  It can take up to 13 years for some women!
In 'No Strings Attached (ep9),' Charlotte is teaching her teenage daughter how to remove a tampon while wearing a white boilersuit and just like that…we learn what a flash period is!!! 
What is a flash period, exactly?

It's funny. If you search for "flash period" nothing medical comes up, and all results steer you in the direction of hot flashes. But hot flashes are not the only symptom of peri/menopause.  
 
Simply put, a flash period is either a rush of blood or spotting after not having a period for a while, typically 4 to 6 months.  And that can be expected during peri/menopause.  Doctors advise women get checked immediately if they have completed 12 months without a period, and then start noticing blood.  It could mean that there are problems that need to be addressed.  
What can you do to prepare?
During peri/menopause you never know when your period can start again.  Since it is so unpredictable, it would be smart to carry a change of clothes and a pad or tampon to be prepared if something happens.  It might be smart to invest in a set of period panties, which have grown in popularity recently.  Brands like Knix, Thinx, The Period Company, and Proof are making it so that women don't have to stress about standing up and having a surprise.  It could be the easiest way to be prepared and not have to worry about carrying around everything.  
Flash periods happen all the time. We need to normalize talking about it.
This doesn't just happen on tv.  The flash period story came from one of the writers on AJLT.  She'd had a busy workday and didn't realize her period had started until she got home and got undressed. She walked through the entire day with her colleague to see who missed sharing this big surprise with her!
Even though AJLT only brought up peri/menopause twice during this season, we at MenoLabs want to encourage you to talk about your experience in peri/menopause with friends and family, ask for help when things get difficult during "the change," and stay positive during this journey in midlife.  We are here to help no matter what you are going through.